Take part in the cleanroom event in Frankfurt am Main.
You have the choice
As an exhibitor at Cleanzone you have the choice between our all-inclusive stand packages or your own stand design.
The Cleanzone will take place in Hall 5.1.
Stand rent Cleanzone 2018
Stand
Stand rental prices
from 9 m²

EUR 260,- /m² *
from 24 m²

EUR 235,- /m² *
from 50 m²
EUR 199,- /m² *
* All prices plus Media package, value of 585,00 EUR, 19 % VAT (if applied), 0,60 EUR/m² Auma-fee and 1,50 EUR/m² environmental fee.
Fully equipped stand "Standard" (from 9 m²)
The Cleanzone fully equipped stand price includes the stand rental fee, as well as all of the other elements of stand construction that you need for a successful trade fair presentation, including an electrical connection, cleaning, stand labelling/designation etc., along with many other services such as a ticket to the entire congress and a parking permit. With this option, you do not have to worry about any other stand construction details.
Price: 448,00 EUR/m² *
Stand rent
Carpeting rep, according to colour chart of MFS
Wall element "Octanorm", silver, fillings: white, height: 250 cm
Maxima-Construction as shown on the picture
1 Company sign board with logo 80 x 80 cm

Cabin with lockable door
halogen long-arm spotlight, 300 W each
electrical outlet, triple
electricity supply
bar table(s) in white
barstools
wastepaper basket
coat rack
Pre-event and daily cleaning
Fair tickets (free of charge) for inviting your customers
1 voucher for a two day congress ticket
1 parking ticket
Fully equipped stand "Plus" (from 12 m²)
With this deluxe stand, you will have an even higher quality trade fair presentation. The price includes designer stand construction and all of the services you need for your presentation.
Price: EUR 602,- /m² *
Stand rent
Laminate beech on chipboard, aluminium edging
Maxima construction with wall filling white, height of the wall 250 cm
fabric banner with digital print, height: 100 cm, Print of client's files
fluorescent light "Nuur", ext. 50 cm, 55 W
cabin with sliding door, 2 m², lockable
electrical outlet, triple
electricity supply
Counter "Exclusiv", lockable
High table(s) Ø 75cm, plate black
Bar stools "Coma", black
Waste paper basket
Pre-event and daily cleaning
Fair tickets (free of charge) for inviting your customers
1 voucher for a two day congress ticket
1 parking ticket
Other furniture, furnishings and equipment options for both fully equipped stand packages are available on request.
* All prices plus Media package, value of EUR 585,00, 19 % VAT (if applied), EUR 0,60 /m² Auma-fee and EUR  1,50 /m² environmental fee.
Cleanzone Plaza
Exclusive for Exhibitor: Shine the spotlight on your company, your innovations and your ideas – in an ideal location right at the heart of the trade fair: With Cleanzone Plaza, we can provide your company with an additional high-profile opportunity to introduce itself to an international group of professionals.
Download service information
Regular Set up of Cleanzone at Hall 5.1
21 October 2018: 7 a.m. – 10 p.m.
22 October 2018: 7 a.m. – midnight
23 October 2018: 0 a.m. – 5 a.m.
Please note:
The entrance to the fairground is only necessary at the set-up days via the check-in at the gate north!
On 22 October 2018 at 5 p.m. the carpet will be layed in the aisles - therefore from this time on you are only allowed to carry out set-up work on your stand space.
The dismantling of the Cleanzone in Hall 5.1.
24 October 2018: 4 p.m. – midnight
25 October 2018: 0 a.m. – 11 p.m.
Once the empties have been delivered, the fairground is opened to drive for trucks. The entrance is only possible via check-in at gate north.
Check-in and vehicle registration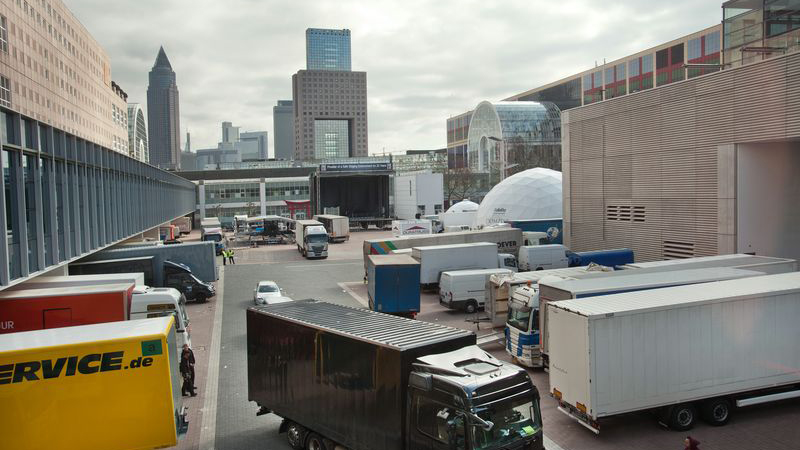 Here you can find all important information about the new Messe Frankfurt check-in system. To ensure your set-up resp. dismantling activities can run as smoothly as possible, all vehicles accessing the fairgrounds will need to be registered by you.
Media package
The Cleanzone media package comprises two components. Part 1: Basic data. Part 2: Online presence. The compulsory media package costs EUR 585.00.
The media package ensures that your same details will be published in the following media (insofar as they are being published for the specific events):

•    Official trade fair brochure
•    Online exhibitor and product search on the event website
•    Apps for mobile devices (Navigator App)
•    Interactive hall and site map
•    Hall signag
Please provide us with your product and company information for the media package to ensure that it is shown correctly in the trade fair media.
To this end, you will be sent the order documentation for the media package in two parts by email.
1 company page and 5 product pages (with Text and images)
1 Company logo

5 search terms of your choice

Basic data for the Media Package – Part 1
Questions to media package part 2?
Would you like to receive information on additional advertising opportunities on the trade fair website?
service@online.messefrankfurt.com
Phone +49 69 7575-5090
Marketing
Your success is important to us - and that's why we support you with professional and effective advertising materials, so you can draw the attention of trade visitors specifically to your exhibition stand.
Download the Cleanzone logo, email signatures and more for 2018.
Instructions manual e-card
Invite your customers to visit you at your stand:
Cleanzone's personalised e-cards enable you to quickly create materials for your advertising campaign.
It's as easy as putting your hall and stand number as well as some optional contact information in and clicking the "Create E-Card as PDF" button. The personalised PDF you can now download contains your data – send it to your customers to inform them of your visit at Cleanzone.
For further marketing measures
The graphics files provided here are the property of Messe Frankfurt. Worldwide use in all print and online media is permitted solely to the following groups of people:
a) to registered exhibitors at the relevant event to promote their own trade fair presence prior to or after the event
b) to media as part of their reporting of the relevant event
The graphics files may not be:
modified in terms of their content,
added to,
distorted, or
redesigned.
Proportional enlargement or reduction of the graphics files is permitted. However, free space must be kept between product brands/logos and other design elements such as text, images or other brands. The minimum gap corresponds to the height of the product brand. It is not permitted to integrate the graphics files in any media whose content violates legal provisions and/or public morality, i.e. in particular, violent or sexual content, as well as discriminatory, insulting or libellous statements with regard to race, gender, religion, nationality, disability, sexual orientation or age.
The forwarding of downloaded graphics files to third parties is not permitted. Third parties are not deemed to include the user's own staff, freelance staff or service providers that the registered user needs for creation of the means of communication.
Messe Frankfurt GmbH