Become an exhibitor at Cleanzone.
Your advantages as an exhibitor:
Meet decision-makers from around the world.
Tap new markets for your innovations.
Take advantage of new customers from all relevant user industries who want to know more about purity in production.
Please note:
Cleanzone will take place every two years according to the industry's wishes. We are adapting the rhythm of the fair to the innovation cycle of the companies.  
From spring 2023, you will find all the information you need about your participation in Cleanzone 2024 here.
Notes for exhibitors

We would like to inform you that numerous suppliers have issued so-called "unofficial exhibitor directories". There are also e-mails in circulation that offer lists of exhibitors and visitors. Please pay attention to our information on this topics:
We would like to inform you that numerous suppliers such as Construct Data (FAIRGuide, Expo Guide), Matic Verlagsgesellschaft mbH and the online catalogue "International Fairs Directory" have issued so-called "unofficial exhibitor directories".
These directories have nothing to do with the official exhibitor directory as issued by Messe Frankfurt Exhibition GmbH.
The official exhibitor directory as well as all online media are strictly issued by Messe Frankfurt Exhibition GmbH in collaboration with Messe Frankfurt Medien und Service GmbH.
The billing of the booked online media is based on the respective trade fair event visited. The invoices correspond to the typical Messe Frankfurt Corporate design.
You can find more information about the so-called "unofficial exhibitor directories" on the home page of the AUMA, the Association of the German Trade Fair Industry.
We would like to inform you about e-mails with such or similar contents:
_________________
Hi,
I am following up to confirm if you are interested in acquiring the Visitor's List.
Trade fair event*, Frankfurt, Germany
Verified Visitor's Counts: 10,100
Contact record includes: - Contact Name, Company Name, Contact Title, Telephone, E-mail and Web Address.
Let me know your interest, so that we can send you cost & additional information.
Looking forward to hearing from you.
Regards
* trade fair event e.g. Heimtextil, Nordstil, Ambiente.
_________________
Note:
There is no cooperation between the Messe Frankfurt Exhibition GmbH and e-mail senders who offer an alleged "Attendees List/Visitors List" or similar. Visitors and/or exhibitor lists for trade fairs will by the Messe Frankfurt Exhibition GmbH not be passed on, sold or passed on for sale to third parties in any other unauthorized way. Only non-personalized data (among others no personal e-mail addresses) is publicly accessible in the context of trade fairs. The scope of the exhibitor application depends on the marketing services (media package, exhibitor search, catalog etc.) booked for the trade fair event.
COVID-19: Important information for your trade fair activities

Everyone has felt the impact of the COVID-19 pandemic. As trade fair, the well-being of everyone involved is extremely important to us. That is why Messe Frankfurt has developed a concept for hygiene, medical and organisational measures that has been approved by the authorities.
We kindly ask you, as an exhibitor, to update your stand construction concepts to satisfy protection and hygiene regulations.

Learn more
Download service information
We are pleased to provide you with the service document on this page. In this document, you will find important information on our services and for your trade fair planning at a glance. This allows us to offer you the best possible support for designing and preparing your trade fair appearance.
Please be sure to forward this service document or the individual information sheets to everyone involved with the trade fair (such as stand constructors, agencies etc.).
Set-up and Dismantling times 2022
Regular Set up of Cleanzone at Hall 1.2
21. November 2022: 7 a.m. – 10 p.m.
22. November 2022: 7 a.m. – midnight
23. November 2022: 0 a.m. – 5 a.m.
Please note:
The entrance to the fairground is only necessary at the set-up days via the check-in at the gate north!
On 22. November 2022 at 3 p.m. the carpet will be layed in the aisles - therefore from this time on you are only allowed to carry out set-up work on your stand space.
The dismantling of the Cleanzone in Hall 1.2
24. November 2022: 4.30 p.m. – midnight
25. November 2022: 0 a.m. – 22 p.m.
Once the empties have been delivered, the fairground is opened to drive for trucks. The entrance is only possible via check-in at gate north.
Check-in and vehicle registration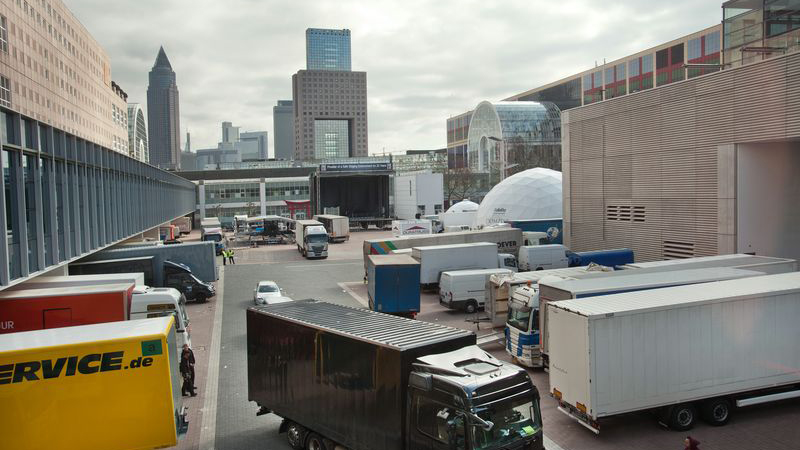 Here you can find all important information about the new Messe Frankfurt check-in system. To ensure your set-up resp. dismantling activities can run as smoothly as possible, all vehicles accessing the fairgrounds will need to be registered by you.
The price for the media package is 750.00 EUR plus VAT.
Exhibitor list in Cleanzone Guide (printed brochure):
Company name, address, phone no., fax no., website, e-mail address, hall and stand number
Exhibitor and Product search in the web
Company name, address, phone no., fax no., website, e-mail address, hall and stand number
Inclusion in 2 product groups
1 company image

1 company page und 5 product pages with text and image in German and English
5 keywords for full text search
4 contact persons (photo and contact details)
5 direct links to your products
10 Social Media Links
6 PDF documents per language (English and German) as a download
Your data will also be published in the Navigator app as well as in the interactive hall and ground plan.

Please order your compulsory media package via the Media Package Manager.
To the Media Package Manager
We are pleased to introduce the company Sutter Dialog GmbH & Co. KG as a new partner to support our customers in using the MPM.
Do you have any questions about the contents of your Media Package; would you like to be informed about additional advertising options in our various media channels; or do you need help using the Media Package Manager?
Phone: +49 201-3101-330
cleanzone@dialog.sutter.de
Marketing
Your success is important to us - and that's why we support you with professional and effective advertising materials, so you can draw the attention of trade visitors specifically to your exhibition stand.
Where do I obtain admission ticket vouchers?
Visitor vouchers are available to your customers free of charge and in unlimited quantities. In the portal Shop for Exhibitor Services, you can create visitor vouchers - even during the event - and invite your customers directly by e-mail or download coupon codes for self-delivery.
Ticket Hotline: +49 69 75 75 51 51
etickets@messefrankfurt.com